Limited Edition Prints
French Cross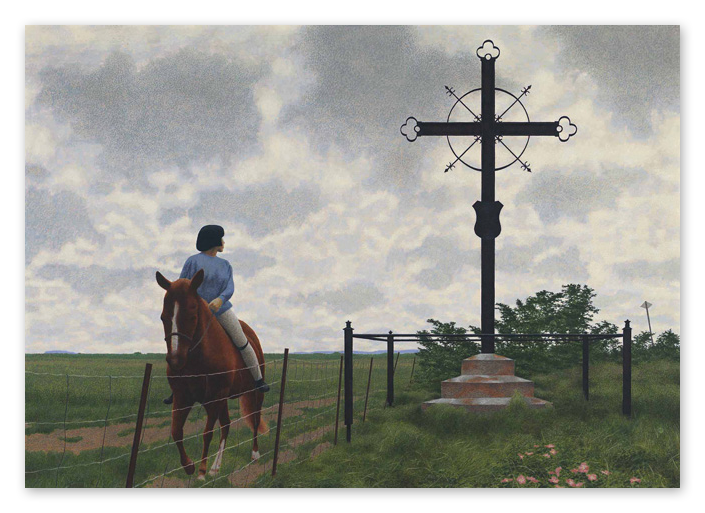 Limited Edition Print by Alex Colville
Edition Size: 950 & 100 Artist's Proofs
Image Size 18 1/2" x26"
Suggested Retail: $650.00 SOLD OUT
A young woman twists in the saddle of her mount, her attention caught by the intricate cross silhouetted against the sky. Her horse plods on, indifferent both to the cross and the woman's interest in it. This cross is a memorial to the Acadian people who were expelled from Nova Scotia in the mid eighteenth century. It stands at Grand Pr'e, on the shores of the Bay of Fundy, a point according to local tradition from where many of the Acadians were shipped away from their homes.
The painting draws a poignant contrast, for while the young woman's gaze forms a link between the present and the past in human affairs, the natural world represented by the horse and the landscape continues a rhythm unchanged by such concerns.
All images of Alex Colville's works are protected by copyright and cannot be reproduced in any way without the written consent of the Artists' Garden Inc.
Some works may sell out before others, and therefore may not be available at time of order
For information on pricing and framing details please contact the
Niagara Image Gallery toll free 1-800-667-8525
Each piece is numbered and hand signed by the artist.
A document of authenticity will accompany each limited edition print.